Howdy all! You guys might know me from my comic book Halloween Man or maybe you only know me from my earlier interview on this very site. If you don't know me at all, allow me to change that. My name is Drew Edwards and like most people writing for this site I'm a rockabilly fan. However there is a another thing that I love far more. What would that be? CLASSIC HORROR MOVIES!!! It's a love I share with a lot of other people in the scene and I'm going to share that love with you via some informal reviews. I don't claim to be a professional critic or another. I'm just a fan who has seen a lot of flicks. But if I can turn you on( or off) to some old school fright flicks, then I've done my job!
Todays subject? LEGEND OF THE SEVEN GOLDEN VAMPIRES!!!
This flick is an odd little bat. It's the last of the Hammer Dracula series, but also a co-production with Hong Kong's Shaw Studios. At the point this was made, Hammer was trying to reinvent their decades-old franchise during the 1970s. Here they hoped to combine gothic horror with kung -fu thrills. The result is a mixed bag of tricks and treats. A VERY watchable oddity from the decade of disco.
Directed by Roy Ward Baker (an old-guard thriller director, who even worked with Marilyn Monroe on "Don't Bother to Knock.") the movie opens in classic Hammer style with a mad Taoist monk limping his way to Castle Dracula. Once in the castle he unearths Count Dracula and a small but nonetheless important issue is revealed. You see, instead of the iconic Christopher Lee, here we are treated to John Forbes-Robertson in Dracula drag.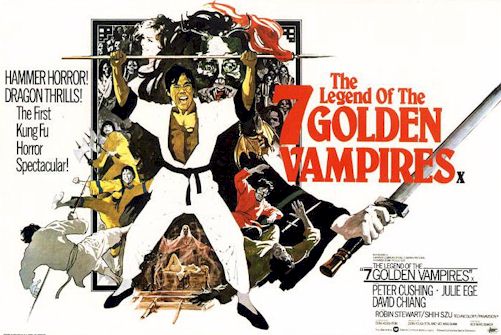 Even though Dracula doesn't play a major role in the film, Lee's booming voice is sorely missed. It's a real shame that Hammer capped off their Dracula franchise without Lee donning the cape one more time. One can't help but wonder how the movie would have been different if Lee had appeared in it.
Anyways, Drac makes short work of the monk and possesses his body, then we fast forward a decade to Professor Van Helsing (thankfully still Peter Cushing) giving a lecture on vampire lore. Old Abe is pretty much written-off as a nut by the Chinese students and scholars. But after the lecture he is approached by a young martial artist (Shaw stalwart David Chiang), who asks for the Professor's help in destroying some local bloodsuckers.
It's here where the movie truly kicks off. Our heroes are forced to flee the city, pursued by gangsters, all the while moving towards a more all-consuming evil. Along the way we're treated to some decent displays of kung-fu carnage, as well as the typical Hammer dollops of gore, lore, and cheesecake.
The "golden vampires" themselves are surprisingly effective monsters. Their crude zombie-like make-up makes them very different from other "Hammer Horror" vampires. Their army of undead slaves is fairly striking as well. While none of the make-up effects are amazing, the general bizarreness of their appearance more than makes up for it. The shots of the vampires climbing out of their tombs are some of the best moments in Hammer history. While not a perfect movie by any means, I'd highly suggest this for the bored horror fan. It's a novelty movie to be sure, but one that hits all the right notes.